How To Lookup Vehicle Title Information
Most people that are interested in looking up a vehicle title are in the market to buy a used car, truck, SUV, motorhome or motorcycle. A vehicle title can tell you quite a bit about a vehicle. Is there a lien holder on the title of the vehicle? Is the status of the title clean or is it salvaged or junked? Is the odometer reading accurate? Is the seller of the used vehicle the owner listed on the title? These are all important questions that can be answered with a vehicle title lookup. The first step in this process is relatively simple if you have the complete 17 digit VIN, or vehicle identification number. Then you'll enter in the complete VIN into one of the many online vehicle record websites to obtain a vehicle history report. It's important to note that not all vehicle history reports are the same so you'll want to pick one that can verify the title information as well as any other piece of information listed above that you'd like to know more about. The vehicle title look up should only take a few minutes and the cost is fairly nominal. If you intend to use the vehicle history report to buy a used car then it's also a good idea to bring this with you to the seller or dealership. This way you can verify the information is correct and accurate. Additionally you may want to run the VIN of the vehicle into the Kelly Blue Book website to find out what the approximate market value of the vehicle is. Many times the seller of a vehicle will over price what it is worth which means you'll have another means of bargaining down the price.
What Does a Vehicle Title Looks Like
The full name of the person or lien holder of the vehicle
The address of the owner of the vehicle or lien holder's address
The certificate of title number
The full vehicle identification number
The license plate number
Year, make and model of the vehicle
Odometer reading and listed if accurate or not
Title status verification, clean, salvaged or junked
Vehicle transfer section for buyer
Release of liability section
How To Register a Vehicle Without a Title
The first thing you'll want to do when trying to register a vehicle you've purchased without a title is to visit your DMV website and see what the requirements are. In some cases you don't actually need the original vehicle title to register a used vehicle and transfer the title into your name. A bill of sale and some documentation will be necessary however and you may need to sign an affidavit to verify you've legally purchased the vehicle from the previous owner, but this really depends on the requirements set by the DMV in the state you're trying to register the vehicle. In some cases you will need to reach out to the previous owner and have them get a duplicate title sent to them and then transfer the title to you so that you can register the vehicle in your name. Whatever the situation may be, it's best practice to verify this step before handing any cash over for a used car to avoid any headaches.  Not all states will allow you to register a vehicle without a title and this could cause some serious complications. You'll typically get a 30 day period to make this transfer and you must also get auto insurance on the used vehicle if you want to drive it on the road. Some auto insurance agencies will give you a grace period but it's also the law to have auto insurance coverage before you get behind the wheel.
How To Get a Duplicate Copy of a Vehicle Title
Getting a copy of your vehicle title is simple as long as you are the current title holder and there is no lien holder or bank that has the title. This means that you must have paid off your vehicle in full in order to receive your vehicle title. The next step is simple, you can visit your state's DMV website online and make your request to obtain a duplicate vehicle title in a few steps. First, you'll need to sign up for an account with your DMV, or download the duplicate title form and fill it out and mail it in or bring it in person to a DMV office branch along with your driver's license. If you choose to submit the duplicate vehicle title request online or via the mail, you will need to also submit payment with this form. The process will take a few weeks to process and then if there are no issues with your request a duplicate copy of your title will be mailed to you, at the address listed on the original title. If you have any questions you can inquire directly with the motor vehicle department in your state, just be ready to wait quite a while on hold as there are typically long wait times to get someone on the phone.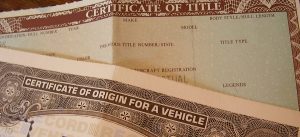 Can I Sell My Car Without a Title?
You can sell a car without a vehicle title but you will want to be very careful as you must release the liability of the car so that you are not liable. What this means is that you are responsible for damages caused by that car if you do not send in a "Release of Liability" to the DMV when selling your car. You can download the Release of Liability Form and then fill out the new owner details as well as a bill of sale. If you want to be extra careful, you should first request a duplicate car title from the DMV website and wait until the duplicate car title arrives before selling your car. This will take a few weeks but it can make it a much smoother sales process. The car title will have all your information on it as well as the Release of Liability Form attached at the bottom of the title which you will detach and submit or mail in to the DMV. It's always better to submit the form online as sometimes things get lost in the mail and that's an additional risk when selling your car. Each state has a slightly different set of rules when selling or buying a car without a title so it's a good idea to go to your state's DMV website to review what is the proper procedure in selling your car without a title.