How to Lookup Any Iowa License Plate Number
1. Run an Iowa license plate number lookup using an online vehicle record website. There are a multitude to choose from that are privately run, efficient and anonymous, so no one will know you're searching their vehicle.
2. Another way to run an Iowa license plate search is to visit the Iowa MVD or their website. You can make a request to view your information about your vehicle but not other people's vehicles. You can do this using this form: Iowa Vehicle Records Request Form
3. You can also hire the services of a Private Investigation Service to run a vehicle record search, this is an expensive option but it's a good option if you can't find the information you're looking for anywhere else
Iowa State Motor Vehicle Agency:
Iowa Department of Motor Vehicles
Address:
6310 SE Convenience Blvd
Ankeny, IA 50021
Telephone:
800-532-1121
Website:
http://www.iowadot.gov/mvd/
The recovery of license plate records varies by state. In some cases, license plate and driving records may only be accessible by the registered owner of the vehicle. In addition, there may be a fee to access the information.
The Iowa Department of Public Safety is another agency that keeps driving and license plate related records in Iowa. Contacting this agency, you may find information related to drivers licenses, registrations, renewals, and more.
Iowa Department of Public Safety contact info:
Phone Number: 515-725-6182
Office Address: 215 East 7th Street
Des Moines, IA 50319
Website: http://www.dps.state.ia.us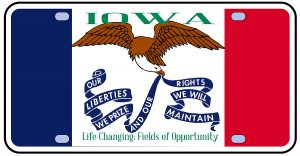 Iowa DMV 24/7 Website: Online Services, Travel, and Drivers/Vehicle information.
The Iowa DMV has an extensive amount of resources on its' website, for the public to view, download, or interact with online including information on drivers licensing, how to obtain an ID, Vehicle Registration, Location of DMV's, Services Offered, Maps and Publications. This website is very user friendly!
The website is available 24/7 online! It is divided into 3 sections: Online Services, Travel, and Drivers/Vehicles. It has an easy menu selection on the home page, http://www.iowadot.gov.
Licensing/ID's: The Real ID Act is in force, so only specific documentation is used for obtaining a valid drivers' license or ID. Please view the DL & ID Cards Pamphlet for full details of what is required.
MVD Forms: There are over 500 forms available for viewing or downloading that pertain to the DOT in PDF format.
Services: Drivers' License Renewal, Electronic Renewal Notifications, Driving Records, Payment of Civil Penalties, and CDL Self-Certification & Medical Examiners Certification are a part of the available online services. Additional online services will be provided soon.
Manuals & Publications: There are 23 manuals or publications that are in a PDF format on the website that you can either view online or download to your computer. Manuals such as the Iowa State Drivers Manual, Commercial Drivers Manual, Truck Information Guide and a Drivers License /ID check list pamphlet. There is also a Senior Drivers' Workbook, "A safe driving self-quiz with practical tips for driving safer and longer." A smart idea and very cool!
Maps: This website also has various maps of where Weigh Stations are located, County Treasurer Office locations, Driver License Issuance sites and Motor Carrier Services for the interstate, county and cities.
Data: There are multiple reports on various driver and crash statistics, as well as several years of Seat Belt Surveys available for viewing or down loading in a PDF format.
OWI: Operating While Intoxicated is detailed out on the website, citing the law and the consequences of breaking this law.
Travel: Plan ahead by viewing Iowa road conditions, Construction, and Traffic Cameras! It also includes trip planning, maps and safety information. See reports for the route that you are planning to take using the interactive map. Click on a camera and it displays real time images from the camera allowing you to see traffic and the surrounding area.
Can I Search An Iowa License Plate Number?
Yes, using the services of a website that specializes in vehicle record resources you can  typically research a vehicle by it's Iowa license plate number or VIN number. Depending on what information you're after and what is allowed by the state of Iowa's privacy laws, you can find the history of the vehicle, title information and owner details. The great thing about using a privately run website for this type of search is that you can access much more information than government resources and from anywhere you have an internet connection.