How to Lookup Any Alaska License Plate Number
The search for vehicle records in the state of Alaska through a license plate number can be done in a few ways:
1. Private databases purchase, organize, and sell information to consumers. These databases are run by private companies, not State or Federal government organizations. This is the easiest option for consumers looking for information because it involves the least amount of work.
2. Another option is to request the information from the state. For the state of Alabama, the form you need can be accessed online, the Alaska Vehicle Records Request Form
3. One more option is to hire a private investigator. This is the most expensive option, but it could prove useful.

Alaska State Motor Vehicle Agency:
Alaska Department of Administration Division of Motor Vehicles
Address:
1300 W Benson Blvd, STE 900
Telephone:
907-269-5559
Website:
doa.alaska.gov/dmv
Alaska Vehicle Record Resources
The recovery of license plate records varies by state. In some cases, license plate and driving records may only be accessible by the registered owner of the vehicle. In addition, there may be a fee to access the information.
The Alaska Department of Transportation is another agency that keeps driving and license plate related records in Alaska. Contacting this agency, you may find information related to drivers licenses, registrations, renewals, and more.
The Alaska Department of Transportation also keeps records related to license plates, registrations, and driving records along with numerous other services.
Alaska Department of Transportation contact info:
Phone Number: 907 465-3900
Office Address:  3132 Channel Drive PO Box 112500 Juneau, AK
Website: http://www.dot.state.ak.us/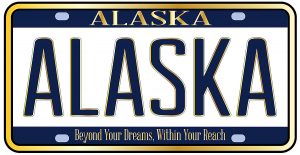 Alaska DMV Website Resources
There is a wide range of services that are offered on the Alaskan DMV's website. Some of these services include:
Renewals
Residents of Alaska can go online and renew their vehicle's registration. This includes vehicles such as snowmobiles, boats as well as cars, trucks and so forth. Residents will need information about themselves and their vehicle if they want to renew their registration online.
Not only can you renew your registration online, but you can also renew your driver's license. You just need your current driver's license number and your current address, as well as provide the website with other basic information about yourself. If you have a state issued ID, then you can also renew that right online, but you will also need to provide a few pieces of information about yourself.
Change Your Address
If you need to change your address, then you can do so right online at the DMV's website. simply click the change your address link and provide the DMV with your new address as well as your previous address.
Personalized Plates
You can order custom plates. Simply choose what types of personalized plates you want, and if they are available, then the DMV will mail them to your address.
Schedule A Road Test Online
You can contact the DMV via their website and schedule a road test. Simply choose the time and date that you want to take the test on, and then pay for the test. The only other thing you need to do after you have paid for it is to show up for the test on the date and time that you scheduled it.
You Can Order Your Driving Records
If residents need their driving records, then they can order copies of their records by requesting their records via the website. Click the link that says driving records by mail or fax, and the DMV will either mail your driving records or they will fax them over to you. Keep in mind that there is a fee that you will need to pay to the DMV if you want them to mail or fax over your driving records.
How To Run an Alaska License Plate Lookup
The process of performing a license plate lookup in Alaska starts by locating the full plate number of the car or vehicle you'd like to know more about. Then you'll need to submit it in either an online driving record repository to access vehicle and owner information. Some states like Alaska may have restrictions on what information can be accessed by privately run driving record websites. It's also important to take note that only certain reasons are allowed to run a plate search, you'll need to verify the terms of the search for the state and website resource being used.